Jeff Gordon Pranks Car Salesman
It may be fake, but it sure is HILARIOUS!!
With just a siganture you could be driving off in a brand new Ford! Available on 7 new vehicle models in stock at Mullinax Ford.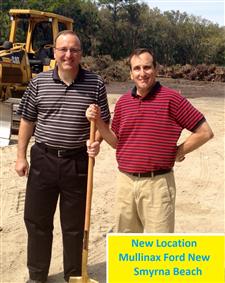 Mullinax Ford broke ground the other day on it's new location on S.R. 44 in New Smyrna Beach. "We're enthusiastic about getting started, " said Larry Mullinax, co-owner of the store. "We will be able to service more vehicles and sell more cars. It's going to be a huge advancement over what we have now. "

"Allergies affect large numbers of people, so anything we can do to reduce potential allergens inside Ford vehicles we do through rigorous, controlled testing," said Linda Schmalz, supervisor of Core Material Engineering for Ford. WebMD says more than half of all Americans test positive to one or more allergens.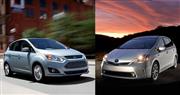 One thing I know about Prius owners, they are a loyal, passionate group. And they should be, Prius is a great family of vehicles. But if you are a loyal, passionate Prius owner, I will warn you now, you are not going to like this review.That's because I had the chance to not only test drive the Ford C-MAX Hybrid, but to pit it, head-to-head, against a Prius V. And (spoiler alert), the results fell decidedly in favor of the C-MAX—in just about every category.
This incredible strawberry shortcake recipe will go quickly, so you might want to set aside a slice for yourself before serving it if you want to have a chance at a second helping! The cinnamon really sets it apart from traditional recipes....
With its remarkable good looks, generous levels of equipment, and advanced technology, the 2013 Fusion looks every inch a winner.

Ford vehicles have won U.S. News & World Report's Best Awards. 2013 Best Cars for Families awards, For three straight years, Ford Fusion has won best midsize car, while Fusion Hybrid is top hybrid car two years in a row. The Best Car for the Money awards go to Ford Focus- Compact Cars, Ford Fusion- Midsize Cars, Ford Taurus- Large Cars, Ford Fusion Hybrid-Hybrid Cars, Ford Escape-Compact SUV's, and the Ford Edge-2-Row Midsize SUV's.

What started out as a six-month project ended up taking five years. "Even with everything labeled it was a chore putting all the pieces back together," said Osborn. "We found out real quick that it's a lot easier taking something apart than it is putting it back together."

Only 50 being built nationwide, Mullinax Ford is hopeful to get an order.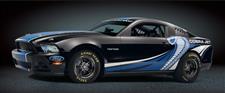 Ford Mustang Cobra Jet Concept Goes Twin-Turbo. New Cobra Jet concept adopts turbocharging technology from production EcoBoost® engines in the quest for ever more performance
We're big fans of the turbocharged Ford Focus ST, and we're plenty excited that the Blue Oval will be offering a similar treatment on the smaller Fiesta here in the United States, too. We first saw the production-ready Fiesta ST five-door...
The NCAA Men's College Basketball Tournament, also known as March Madness, is one of the world's great sporting events and the best part is, you don't have to be a sports fanatic to catch the fever.
Many people don't realize the impact that their shopping habits and food-selection choices have on the environment. The following suggestions will show you how to make your grocery shopping more earth-friendly. Switch to Eco-Friendly Shopping...
April 6th, 12th, & 20th Events Planned
Mullinax New Smyrna raised $6,240 for NSBHS!! Beat that!
These delicious, rich, peanut buttery cookies may just be the easiest cookies you've ever made, perfect for last-minute entertaining or a rainy-day project that even young kids will enjoy. Even better? They are made without any flour, making them...
Autoblog by Michael Harley

I'm not normally a pickup kind of guy, but the 2013 Ford F-150 SVT Raptor won me over nearly instantly. The street-legal trophy truck – there is really no other way to accurately describe it – is big, brawny and incredibly capable. Let's just say...
NASCAR's Annual Award

The annual award is bestowed upon the Official NASCAR Partner that demonstrates extraordinary leadership and results through its participation in the NFFB Council